Luxury: "A material object conducive to sumptuous living, rather than a necessity…a pleasure out of the ordinary allowed to oneself."  This comprehensive description from Dictionary.com may already speak to your current understanding of luxury, but how does it apply to the cars we admire and drive?  With such a diverse collection of exotic car rentals, it might be hard to pinpoint those which we might consider actual luxury cars.  Sure, our Bentley Continental Flying Spur is undoubtedly a luxury vehicle, but do swaths of fine leather and planks of walnut burl define what it is to be a luxury car?  Our Tesla is absent of this eye candy but is arguably just as much of a luxury vehicle as the Bentley.  Hard to wrap your head around?  Jump back to the dictionary definition and we see this point proven.  Our Tesla is not a necessity (we don't need to use electric motor technology to get around), the experience of driving it is pleasurable (the thrust is addicting!), and as a vehicle it is absolutely out of the ordinary (the vast majority of us still rely on internal combustion).  If this is the case, why don't we classify the Tesla as a luxury coupe rather than a sports coupe?  Heck, this could be due to an overcrowded segment or just an effort to avoid diluting the term, but we here at Club Sportiva believe it is less about the name and more about the experience.  After all, luxury does not have to correlate with your bank statement, and we're proud to provide exotic car rentals and the luxury lifestyle to all walks of life.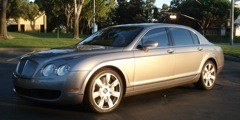 As our clientele and enthusiasts know oh so well, there are many factors that contribute to a genuine and unique experience with luxury and with luxury vehicles.  Being situated in the great state of California provides us with the opportunity to understand a wide array of settings and how they can best complement each one of the exotic cars in our paddock.  Whether weaving through the Bay Area backroads in the Lotus Elise, cruising wine country in our Porsche 550 Spyder replica, or making a statement at your next L.A. event in our Ferrari 458 Italia, coupling a fine automobile with an equally unique location is a key factor to an emotional, luxurious experience.  Also, aside from the word "pleasure," where is the reference to emotion in the definition for luxury?  When all is said and done, a luxury car experience is not just about sheer pleasure.  When you hop in and start the engine in our Audi R8 rental, its burbling exhaust and superior mechanics brings about emotions of nervous excitement, the quintessential knot in your stomach, not from impending doom but from impending excitement.  Step on the gas and that knot releases, sending G-forces and an unparalleled rush that only a luxury vehicle can offer.
With that said, perhaps a luxury vehicle is not so much defined by its use of industry standard components and materials, but by its ability to churn and stimulate a wide array of our emotions.  Getting a little better understanding of what you deserve and seek out of a luxury experience is an important consideration before indulging.  But, indulge all you want. With the world's most exclusive supercars at a tiny fraction of the price of ownership, we're poised to offer all personalities a truly luxurious exotic car experience.