Imagine the mindset of Henry Ford shortly before his death as he gazed around at his surroundings, realizing that he had changed the way humans would lead their lives forever; the sense of accomplishment would he so high that it would almost be humbling.  One of the most influential manipulators of Ford's automobile is Ferdinand Alexander Porsche, who recently died on April 5th.  Lauded for designing the iconic Porsche 911, auto consumers, enthusiasts and racers alike can see the value and impact of this man's vision every time a Porsche zooms by.  "Butzi," as he was known by close colleagues, friends and family, deserves to be remembered by all who appreciate sports cars, and by our prized customers and fans, seeing as how his original designs are still fiery and alive in today's 911.
A design junkie from the start, Ferdinand took his adolescent passion for designing and building his own toys into adulthood at the Ulm School of Design at the Waldorf School in Stuttgart, which then led to his professional career at Porsche in 1958.  One should not forget that F.A. grew up in a turbulent time in the European automotive industry, a time when his grandfather, Ferdinand Porsche, was designing the Volkswagen Beetle and tanks for the Nazi regime during World War II.  Juxtaposed with this was his vision to break boundaries and evoke new emotions in road-going sports car design.  Politics aside, perhaps one thing that he gained from developing his passion around his grandfather in this era was a distinct focus and appreciation for functionality in design.  In 2002 F.A. said to the L.A. Times, "Good design only exists in concert with engineering. That is because form has to follow function, so you focus on function and then give the object a shape to make it appealing."  Add all the swoops and chrome that you want to a car, but perfect placement and logic executed in the best materials will always catch the enthusiast's eye.  And when first introduced to Porsche colleagues, Butzi's plasticine model of his "901" car proved to be a hit.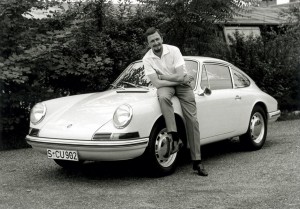 In designing the car, there was to be more space, functionality and comfort in the 901 than in the 356, which was initially at odds with sports car design, something F.A. reflected himself when noting, "Comfort is not what makes driving fun, it is more on the opposite."  In conjunction with Ferry Porsche (F.A.'s father and Ferdinand's son), some of the main goals in relation to more functionality included a lengthened wheelbase, increased comfort and increased trunk space.  Thanks to F.A.'s design skills, these attributes were achieved while still developing a brand new, fast and beautiful shape.  So, after a bit of disagreement with Peugot's copyrights, the "901" became the "911" and debuted as the successor to the 356 at the Frankfurt Motor Show in 1963.  The 911 would go on to be the benchmark in sports car design and performance to this day, as reflected by our Porsche 911 Turbo rental, Porsche 911 Carrera S rental and Porsche Boxster S rental.
Butzi's legacy at Porsche would change in 1972 as the automaker sought to inject increased influence from outside of the family, but his role in establishing the Porsche Design accessories brand, as president of the supervisory board from '90 to '93, and his influence in the design of the hugely successful Cayenne shows that his spirit has and will always live on in the brand.  Matthias Muller, chief exec at Porsche AG notes, "His philosophy of good design is a legacy to us that we will honor for all time."  So, let's raise our cups (or car keys) to a man who has shaped the way we envision the sports car and contributed so much to our very own collection of exotic car rentals.