A Memorial Day weekend spent behind the wheel in the Club's SL55 AMG was indeed just that, memorable. It had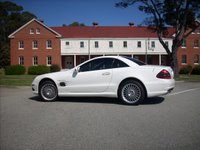 been a good 12 weeks since I last had a good dose of excess horsepower (in Sportiva's Corvette) and I was itching to explore this luxo hauler's road habits. In three days I figured I'd find out just how civilized or bad-assed this horsepower laden roadster's personality really was.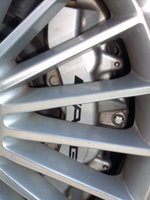 Forty eight hours later I'm thinking that perhaps AMG stands for Almighty Mighty God – because you that's whose hand I thought was shoved in my back at every throttle application. At one point, the thought crossed my mind to place a piece of tape over the warning light in the speedo that indicates a loss of rear wheel adhesion – it's constant winking was getting a bit annoying. (I never even considered turning traction control off!).
In researching a few facts and figures for this blog post, I came across a paragraph about the SL55′s prodigious output upon it's 2002 debut (is it already that old? – I tried to track the source but found over 20 websites using it).
"The supercharged V8 engine in the SL55 AMG makes it the most powerful Mercedes passenger car on the market. The new 5.5-litre powerplant develops a remarkable 350 kW/476 hp and generates maximum torque of 700 Newtonmetres as low as 2650 rpm. This level of torque is available up to 4500 rpm. The end result is awesome performance on tap at low revs and unsurpassed elasticity under acceleration in any gear. The SL 55 AMG covers the sprint from 0 to 100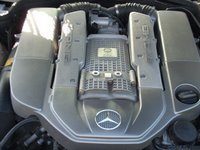 km/h in just 4.7 seconds and reaches an electronically limited top speed of 250 km/h. These imposing engine data power the new SL 55 AMG to the top of the eight-cylinder roadster segment worldwide in terms of performance and torque."
Guess that summarizes what's under the hood – there is no doubt that 700 Newtonmetres lurk there as the power is truly awesome, and when put to use in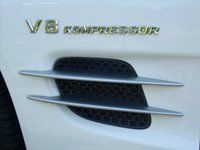 ample quantities is accompanied by an extremely pleasant rumble that speaks volumes about what's happening. Goosing the throttle is somewhat akin to leaving jet wash from a 757 wherever you go.
The overall the driving experience was positive – I was impressed with the ride qualities, it wasn't in the least bit skitterish in the tight corners, had zero bump steer, and exhibiting amazing grip with poise and balance that belies its hefty curb weight of 4300 pounds. But there were more than few aspects that left me wondering if north of $125K might be better spent elsewhere. The incredible surfeit of electronic controls and adjustments left me thinking that they were just more things to break – if owned this car it might take me weeks to find the optimal seating position from the myriad combinations possible (among the choices – lumbar support pulse). Then there's the incredibly complex top, whose creak and groans when closed would be totally unacceptable in car costing half as much.
One question I always ask myself after an outing with a Club car is, would I consider ownership? Hmmm, no. Was it fun? A definite yes. Would I take it out again? Yes, if the 30K service brings ALL the systems up to snuff. But owning one? I really won't go much further than to say that its already dropped $60K in depreciation, and it's falling in value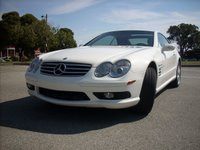 as fast as a gallon of premium is rising. And if you own a 700 newton meter beast, you have to feed it – often. That said, I had a blast driving it and would highly recommend a weekend in it for any Club member. This is why I belong to Club Sportiva – so I don't have to own one to experience it.