Well, a new year is upon us and the exotic auto industry seems to be keeping a comparable pace.  As mainstream brands continue to increase power ratings among their lineups, exotic brands are continuing to push the boundaries on how much horsepower they can push out of both naturally aspirated and forced induction powerplants.  While brand new supercars and luxury cars are rolling off the line for 2012, we also see some of our favorites evolve into more powerful and more beautiful renditions of our favorite high-powered platforms.  Let's first take a look at the newest from brands that we already have in our paddock of exotic auto rentals and timeshares.
Porsche is undoubtedly a favorite among both our sports car rental and membership consumers, reminiscent of the several porsches in our current and reitred lineup.  We currently have two 997 911's in our paddock, one of them a Carrera S Cabriolet and the other a beautiful silver Turbo.  Porsche knows that their 911 design scheme is timeless, a fact that is reflected in the subtle evolution of the 911 for 2012.  Marked by sexy squinted tail lights and an elongated rear that makes up for the nearly 3 inch increase in overall length.  And while some enthusiasts have shown a distaste for the increased girth of the 911, its new stance brings each and every new 911 closer to full-on supercar status; we'll be keeping our eye out for the new cabriolet and turbo.  Also, if you haven't had any time in our own cabriolet or turbo, do yourself a favor and get some seat time, our models are the epitome of Porsche's renowned driving experience.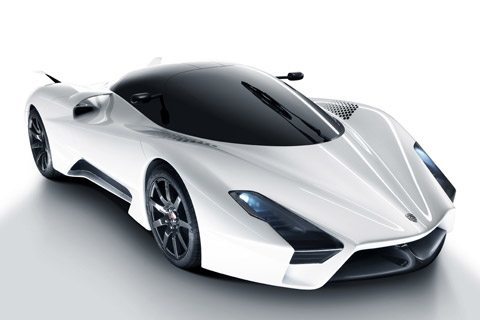 Mercedes has also presented us with a substantial change in its iconic SL-series, both in its design and in its now legitimate claim to being a "sport light" vehicle, as it is now constructed completely of aluminum.  It borrows cues from the handsome SLS series and offers more powerful standard V8 variants.  Since the car is so new, no modified or AMG models have surfaced yet, but you will be the first to know when info or pics leak.  And if you're looking to get a taste of the SL right now, look no further than a Mercedes rental from us.  Our SL55 AMG is, for lack of a better word, a beast.  There is something about a supercharged, torque-tastic Mercedes motor that you just can't replicate.  But don't let the hand-stitched, ergonomically-friendly interior fool you, these tires are begging to spin.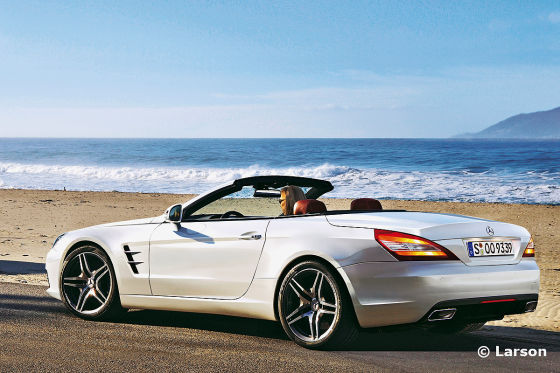 In terms of exotic cars and supercars, 2012 is the year to go topless.  The one and only Lamborghini Aventador will he chopping the top very soon, along with the new 911 that we described a bit earlier; both of which likely to be revealed as 2013 models.  Also, the insanely fast and unique Hennessey Venom GT has dropped its top in the 2013 Venom GT Spyder variant.  Can you imagine going 200+ with the top off?  We'd like to take the imagination out and inject some reality into the notion, that's for sure.  Also, the Ferrari 458 Italia, a car that we so proudly offer for rental and to our members, has gone Spyder on us.  Amazingly enough, Ferrari has done so with an electronic retractable roof that operates smoothly and quickly, and is seemingly unaffected by the fact that there is a high-powered V12 sharing the space.  Let's just say, when you're seeing Ferrari red, look no further than our red Ferrari 458 Italia rental and timeshare.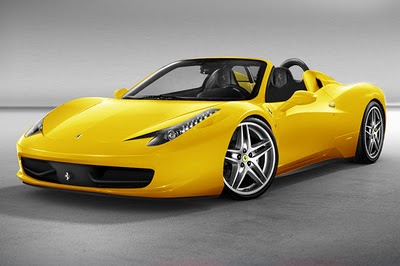 Lastly, when we consider the very newest in the top of the exotic auto food chain, all eyes are on Shelby Super Cars (SSC) with its new Tuatara model that has gradually shed more and more skin for enthusiasts.  This is a car that will compete with the likes of Bugatti, Pagani, Kenigsegg, Ferrari, and Lambo in its quest to reach closer and closer to 300 mph.  Claims have been thrown around that the Tuatara will come close to, or beat the Veyron SuperSport's 267 mph landmark, but once we actually see track figures, its hard to know.  Nonetheless, it is an exciting offering to keep an our eye out for in the new year.  All in all, 2012 seems to be more of an evolutionary year than a revolutionary one, and that is just fine.  We see some of our favorites, like the Mercedes SL, Porsche 911 and BMW M5 shedding old skin this year, and so far the efforts are nothing short of stunning.  Some other brand new offerings will definitely shake up the exotic auto scene and we will be keeping close tabs.  All in all, we're proud to see our lineup of exotic and luxury auto rentals and timeshare opportunities continue to be the best of the best within the automotive industry and are constantly excited to see our paddock evolve.  The bottom line is that your taste for exotic autos will not cease in 2012, so come wet your palate here at Club Sportiva.
Photo credits:
http://newscartrends.com/wp-content/uploads/2011/09/New-2013-Porsche-991-911.jpg
http://www.newautoreviews.net/wp-content/uploads/2011/12/2013-Mercedes-Benz-SL-Class-side-view2.jpg
http://1.bp.blogspot.com/-OoRiLvglQ9w/TnkuweKOi0I/AAAAAAAACBA/eyd8VE6ZrvE/s400/ferrari-458-spider-set-for-frankfurt-debut.jpg
http://www.thesupercars.org/wp-content/uploads/2011/07/2012-SSC-Tuatara-Profile-480.jpg