What does exotic auto ownership mean to you?  Is it a reality, a hobby, or merely a dream?  Our goal here at Club Sportiva is to provide the world's most desired exotic automobiles and the accompanying lifestyle to those from all walks of life.  So whether getting behind the driver's seat would otherwise be unattainable or whether it is just the ownership costs that thwart your enjoying the lifestyle, Club Sportiva is here to make it all a reality.  What sets us apart is our variety of options.  From exotic auto rentals to exotic car tours and track experiences, novices to devoted enthusiasts have their place here.  But perhaps one of the most robust offerings we have here at Club Sportiva is the opportunity to share your cars while experiencing ownership of other exotics.  There are a few different ways that we make this happen.
First there is the Points Share program.  This model allows you to introduce a car you already own or would like to purchase into our fleet in order to get access to our other amazing vehicles.  When your car gets utilized by other members or clients you will accrue ½ of the point value of that day's reservation; points that you can use toward other vehicles.  So, if a member were to use, say, 10,000 points to rent your vehicle, you would gain 5,000 member points to use toward a different vehicle of your choice.  Rest assured, you will always have complimentary access of your exotic!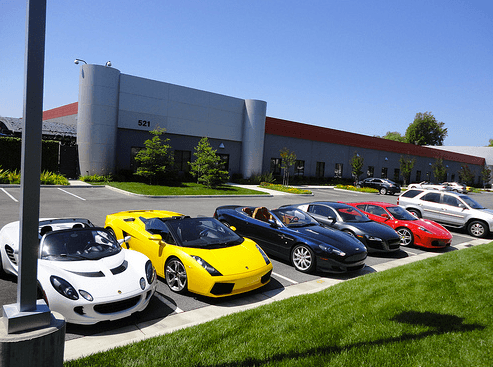 Next up is our Investor Share model which allows you to truly invest in an exotic, such as a new Ferrari or Lamborghini, and receive a guaranteed rate of return.  So far in 2012 our Investor Share members are seeing a return of up to 5% on their capital.  All the while members that opt into this program have complimentary access to the invested car, without the hassles of owning an exotic car.  Lastly comes our Lease Share program.  Honestly, what sounds better than leasing a beautiful exotic car and having most or all of your monthly lease payments completely covered?  By adding the vehicle to our fleet, leasing and ownership costs can become completely manageable.
When it comes down to it, when a Lamborghini Murcielago can run you approximately $2,000 for an oil change and $4,000 for plugs, ownership costs can often deter any sort of real enthusiasm; we're here to keep that enthusiasm alive!  But as we noted before, no matter how involved you want to be with the exotic auto lifestyle, Club Sportiva is happy to make our fleet available to you.  And might we add that our fleet is growing?  Let's just say we have some exciting offerings from the likes of Rolls-Royce, Mclaren and more on their way.